Baby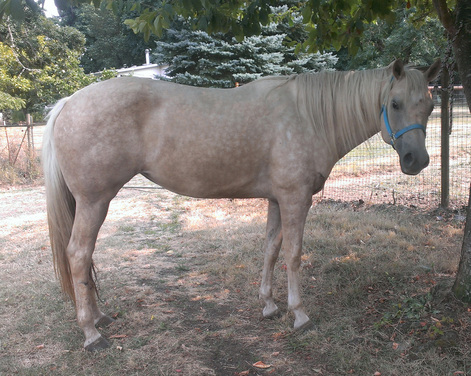 Baby had a heartbreaking start in life. Her dam, an 8 year old daughter of Ima Cool Skip and granddaughter of Mr Impressive, lost her life due to foaling complications just a couple of days after this filly was born. She spent a few days at OSU, then came home a bucket baby and with the help of several goats, she was extremely healthy and thrived.
​
What a lovely mare she has become. Unfortunately, Baby had a serious accident and does not move sound. She is the last of the great bloodlines that we worked so hard to establish here at the farm. She is our biggest girl and one of the kindest we have ever produced.
---
Reeda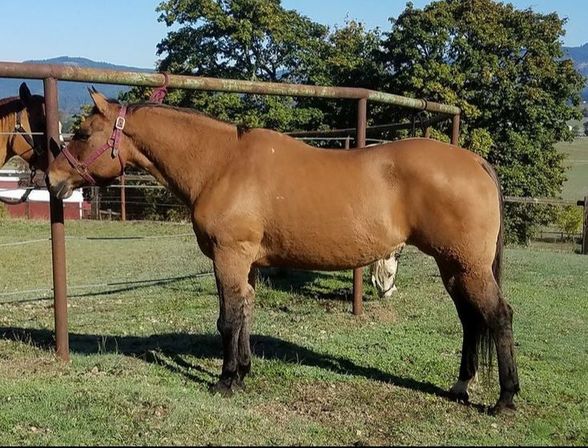 Reeda is 29 years young this year. Her knee is arthritic from an old injury many years ago, but she is still going strong. She taught my daughter to ride and was so patient with the kids. Reeda has more than earned her retirement and special care. She had produced several nice foals years ago, some have done well in the show ring.

Reeda will no longer be ridden. She has had a pretty easy life and we plan to continue letting her grace our pastures for as long as life is good to her.
---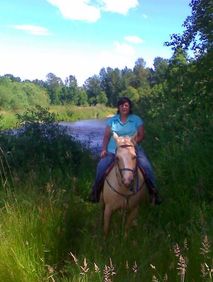 Diamond

Diamond is my personal riding horse. All we do is trail riding these days. She is great, will go anywhere willingly and not afraid of a thing.

Diamond is Skipper W bred and a very kind horse, has great feet, is an easy keeper and has superior ground manners. She does get excited at times due to her background in barrel racing, but we continue to work on being calm. She has a wonderful, smooth jog and easy to sit trot. Diamond and I have decided to grow old together. We both have a few miles left in us and intend to enjoy life to the fullest.

Photo taken by my sweet sister Rebecca after wading up and down the river a few times. Diamond enjoys the water.​
---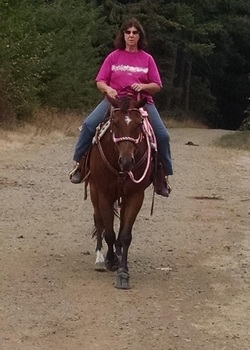 ​ Chloe

Chloe has been leased to us for the past few years from her owner, Lisa (pictured). This beautiful, sweet mare was leased for our daughter Shannon, but she no longer rides, so Lisa has been riding with me whenever the weather permits and she is feeling up to it.


Chloe is such a kind and lovely mare that was trained and shown by Lisa. She has taken well to being a trail horse after being ridden in arenas most of her life. Thank you Lisa for entrusting your special girl to us! It's been a riot riding with you!! Looking forward to spring!

​
---